But La Laguna is much more, it is a world of hiking.
When we think of La Laguna, the first thing that comes to mind are the cobbled streets with their colonial buildings. But La Laguna is much more, it is a world of hiking. Let's take a look at the best walking routes around La Laguna, some of which form part of Tenerife's only Biosphere Reserve.
We are clear about this. This is the plan that never fails: a spectacular landscape of peaks and coastlines, where the greens are infinite and merge on the horizon with the intense Atlantic azure. Put on your boots immediately as we enter the inner lungs of Tenerife.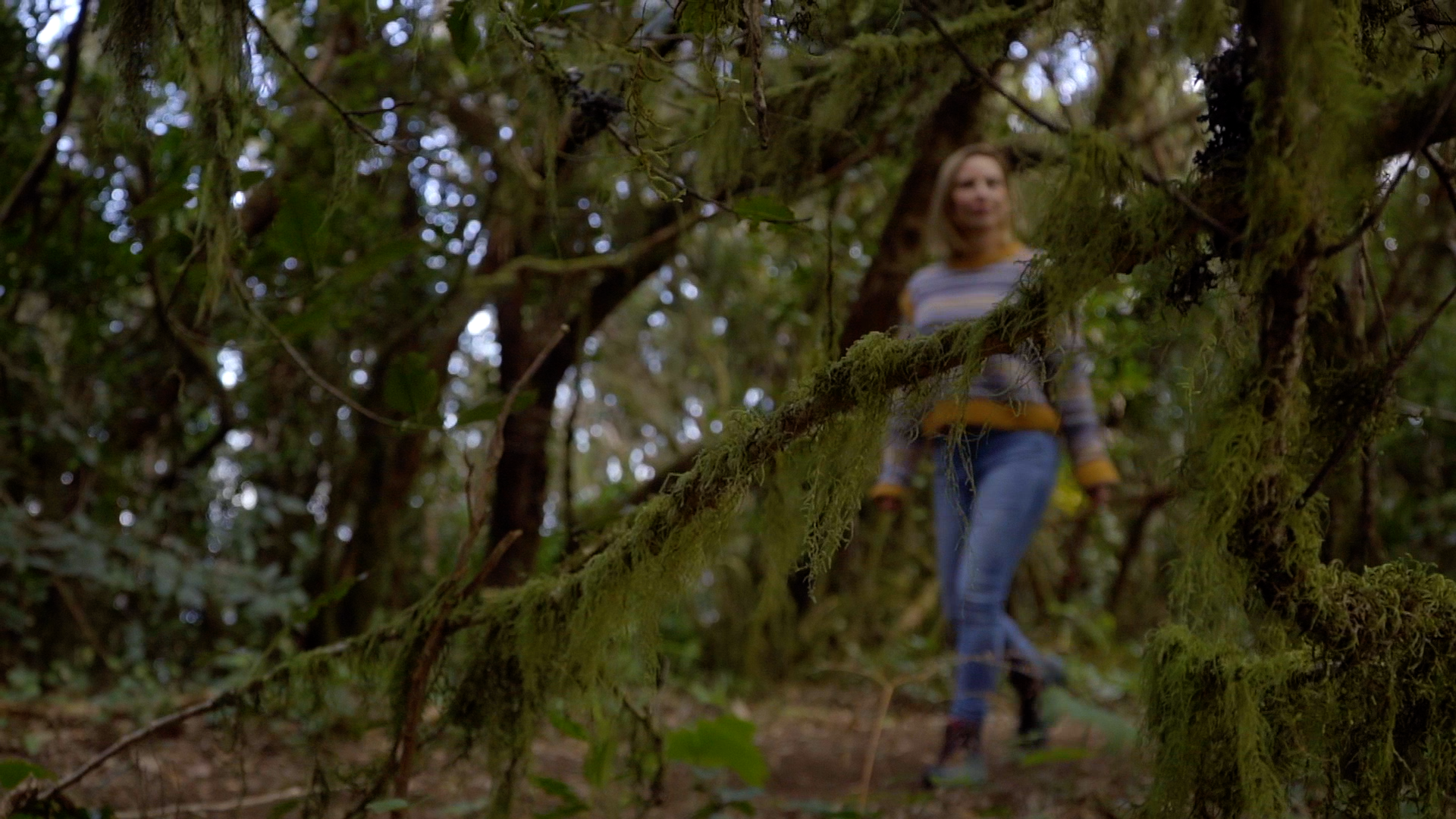 Forest of enigmas
Not far from the city, in the area of Cruz del Carmen, you will discover that there are no limits to the greenery and the forest of La Laguna has a mystical and captivating air. The importance of this forest goes beyond its beauty, for it is a very old wilderness. We are talking about no less than 40 million years old, home to unique species and reliant on the Alisios winds for its existence.
We start at the Mirador de Zapata, where the Laurisilva forest welcomes us, making us feel its humidity and freshness. From this point on, we will venture on a fascinating 5km route, of easy access, where, following the map of the enigmas, we will learn many interesting facts about this place and the importance of this unique forest.
Listening to the branches creaking in the wind, discovering mushrooms on a dead tree trunk or listening to the flapping of a Laurisilva pigeon are some of the experiences you will have here. And we won't give you any more clues because we know you're going to love discovering it first hand.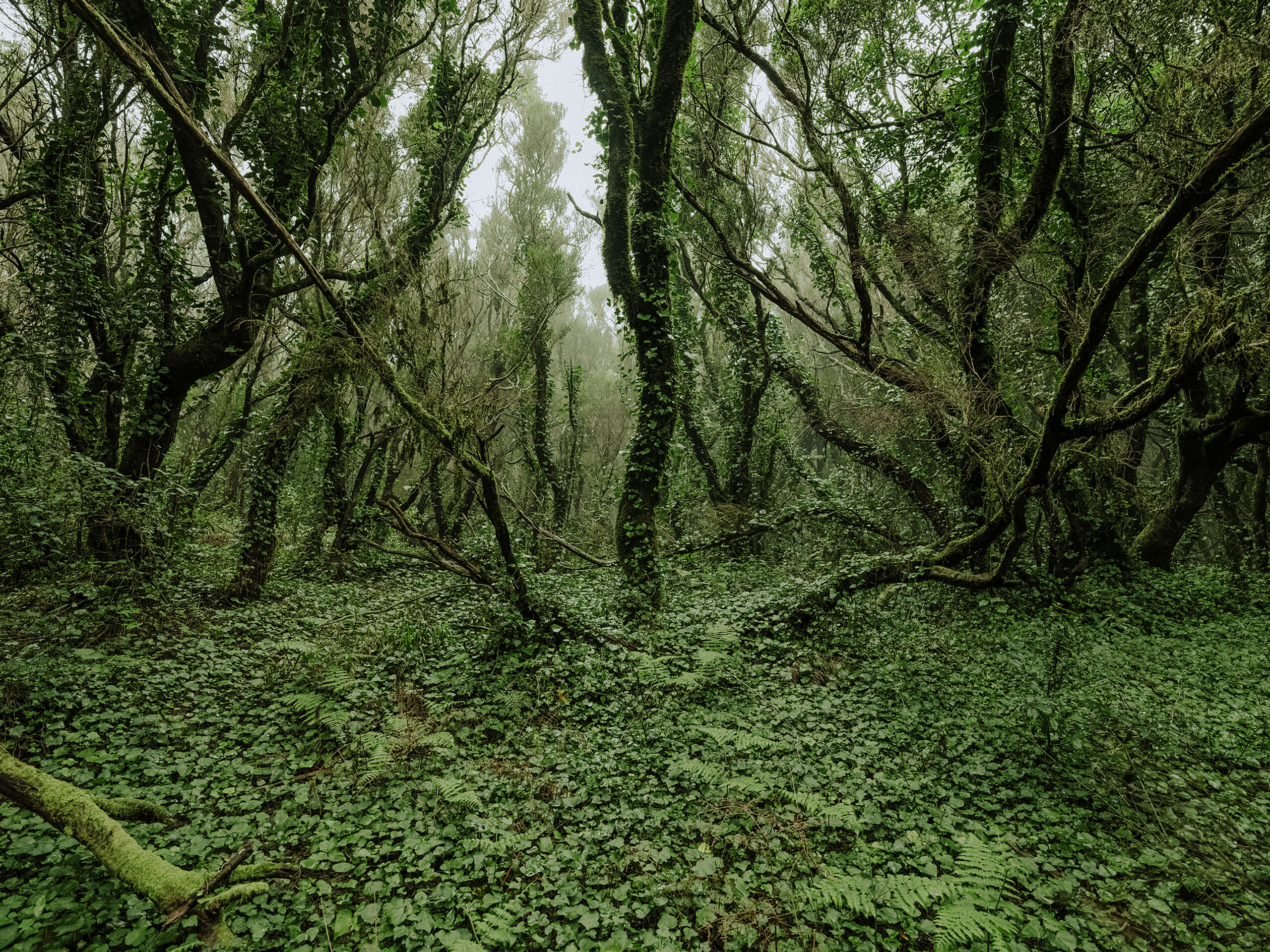 Pathway of the Senses
This trail is located in the area traditionally known as Las Montañas (The Mountains). We set off from Cruz del Carmen on a fairly short circular route, about 2 km long, along a section of an old road that used to connect Anaga with La Laguna.
Although short, this is a very original path, with a sensorial route to perceive the textures, colours, aromas and sounds of the forest.
Cruz del Carmen and Llano de los Viejos
Another short hiking route in La Laguna is the one from Cruz del Carmen to the recreational area of Llano de los Viejos, passing through Llano de los Loros. It is only 1.5 km long, about 45 minutes, with exuberant vegetation of fayas, heather and some laurisilva species.
Chimanada and Punta del Hidalgo
We start this walk at a place of special ethnographic interest, the village of Chimanada, an old indigenous Guanche settlement, from where we approach a small hermitage, to begin the path that runs along the Tomadero ravine. Here we will marvel at the work of the local farmers, who are able to cultivate in such a rugged environment, creating terraces for planting potatoes and pumpkins. Passing several caves, we follow the path until we reach the Roque de los Dos Hermanos, with views of the unspoilt beach of La Fajana and the entire coastline. A panoramic view worthy of being immortalised. We continue our descent to Barranco del Río, which will be our gateway to Punta del Hidalgo, the last stop on our journey. The trail, of medium difficulty, is 4.7 km long and takes about 2.5 hours.
Llano de Los Loros
This 1.7 km, 1 hour circular hiking route takes us on a walk through history, as this was the most travelled path in the old days by the locals as it connected La Laguna with Anaga. What a great pleasure to get lost in the monteverde (green forest), in this woods so filled with life. We arrive at a viewpoint, from where we can see the Tahodio Dam, which once provided water for the plantations of banana trees in the area. Also Monte de Aguirre, Barranco de Tahodio and Barrio de La Alegría in the distance.
Although the name of this area might lead one to think that parrots stand out among its varied local fauna, the truth is that it has to do with the flora, as this area used to be plagued by laurel trees or "loros" (parrots in Spanish).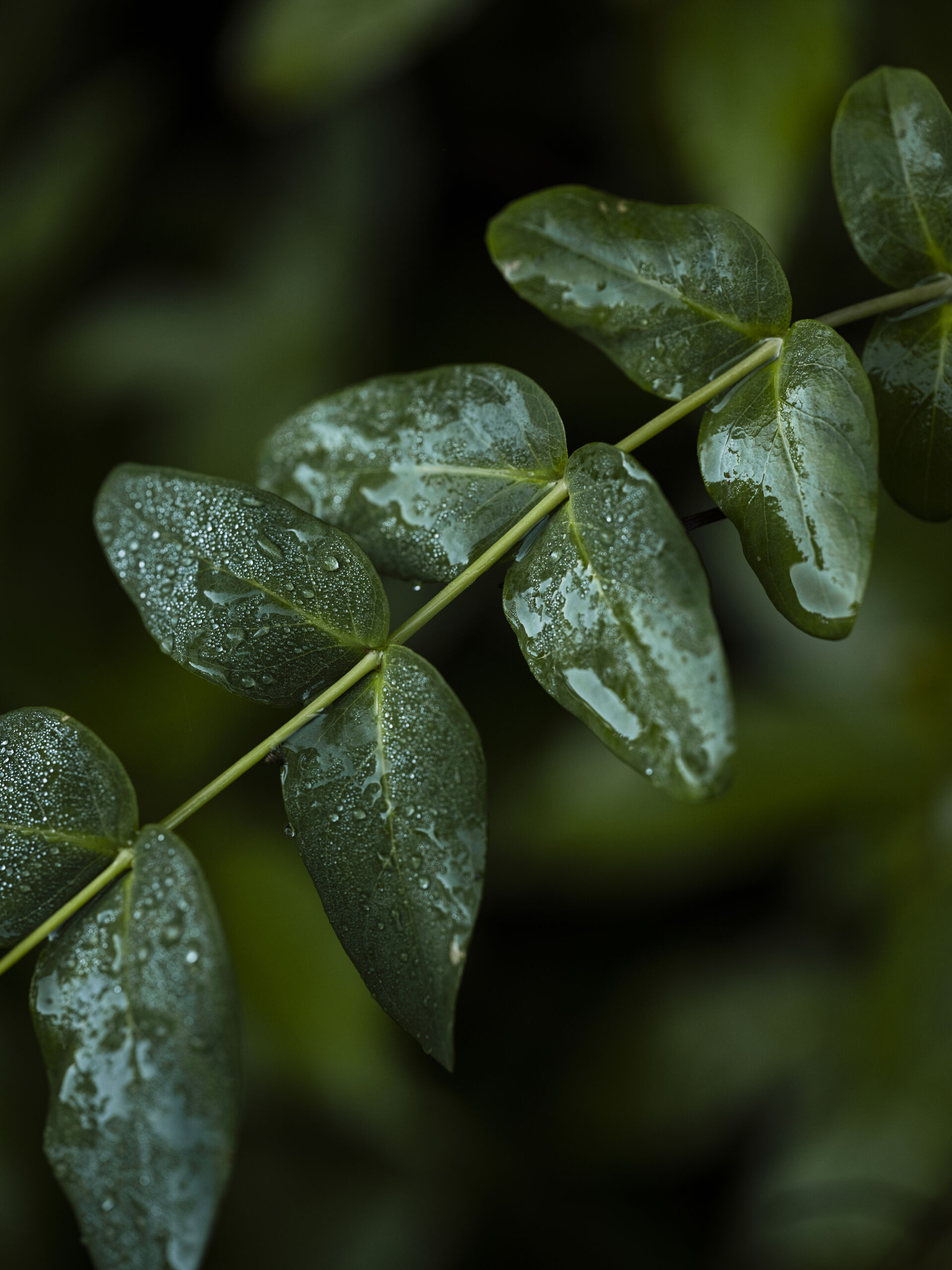 Cruz del Carmen – Punta del Hidalgo
For the more adventurous, this trail is somewhat longer and more demanding than the previous ones, as it is about 10.4 km, approximately 4 hours long, with a medium degree of difficulty.
The adventure starts in Cruz del Carmen and crosses several areas of special interest, such as the village of Las Carboneras or the area of Chimanada, from where it continues along a path carved in stone to Punta del Hidalgo. And here the reward for arriving is the Atlantic: the sea welcomes us in this postcard village where we can relax with the cooing of its waves.
Las Escaleras, Las Carboneras and Chimanada
For those in search of a short walk, this route is ideal because it takes just 3.1 km, in 1 hour and a bit of walking, and offers landscapes that will remain etched in your mind's eye.
We descend some stairs, with the Roque de Taborno in the distance, to enter the sumptuous vegetation of the forest, passing caves and water springs, until we reach the hamlet of Las Carboneras. Here we border the steep Tomadero ravine to head for Chimanada.
Cruz del Carmen and Bajamar
Attention hikers, this is a very complete route that runs for about 10.5 km and takes around 5 hours from the peaks of Anaga to the coast. We leave Cruz del Carmen, and descend the leafy forest to the Casas de La Goleta, where we leave the mountain to continue down the ravine, in a landscape dominated by cardonales, a Canary Island plant whose toxic sap was traditionally used as a purgative, to alleviate pain and even for fishing. We will pass through the palm grove of Bajamar until we reach the centre of the village.
Casas de la cumbre and Valle Brosque
This circular route of 7.6 km takes about 5 hours and starts at Las Casas de la Cumbre square. We start the descent in cultivated zones until we reach an area known as El Pelotón, to then climb back up passing through Majimial and the Cruz de Taganana.
A walk that will take us into the spectacular landscapes of Anaga, and will allow us to observe the local way of life and experience the past and present of agriculture in the area.
La Hija Cambada
The name of this trail is already very appealing and arouses our curiosity. It refers to an old specimen of Hija, a kind of tree in the area, which grew crooked, or cambada as they say in Canarian.
This short walk, which only takes about 45 minutes, as it is 750 m long, runs through landscapes where the humidity and the sea of clouds have favoured the appearance of various species of flora, such as the laurel or the yew tree.
Cueva del Lino
This itinerary lives up to its name and also takes us on a historical and cultural walk through the Batán area, which in ancient times was considered to be the cradle of the island's textile industry. It is 2 km and about 2 hours of descent and then ascent through the Barranco del Río.